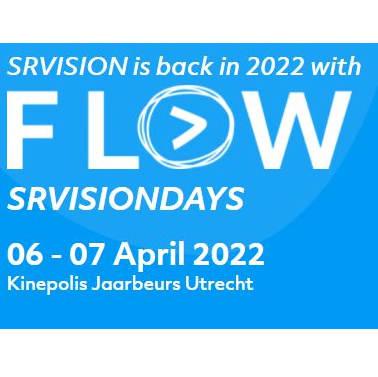 SRVISION days 2022 – Wednesday 6/4 and Thursday 7/4
On Wednesday 6/4 and Thursday 7/4 SRVISION is organizing an ONSITE conference in Utrecht on FLOW
in IT management.
Being in flow is a cornerstone for success these days. Almost all organisations are in some form busy
enabling flow in their delivery capability. Be it Digital, Agile, Devops…, these transformation are all
introducing flow.
This allows teams to enhance their value delivery. Flow drives team collaboration and speeds up
feedback loops to enhance service quality.
Present for our paying members: itSMF Belgium is thankful to SRVISION for offering us a 15% reduction
to the listed pricing. Email eddy@itsmf.be and you will receive a voucher to claim your reduction when
you fill in the registration form.
We have 20 vouchers to distribute. First come, first served.
Get submerged in flow and join the keynotes, break-out sessions, hands-on cases, workshops and much
more. All information on the conference, the speakers, their topics, and practicals can be found here:
https://srvision.nl/en
Comments are closed