08.2020 – ABC Cards – blog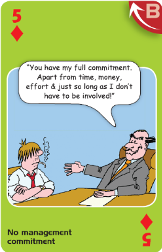 Remote event : ABC of ICT : the workshop
This workshop, a sequel of the event hosted by the itSMF Belgium chapter in collaboration with Paul Wilkinson on Tuesday 23/6, captured the essence of how ABC is experienced by our attending members and how to address this.
The panel identified the top3 cards :
Number 1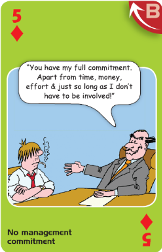 The reason why this 'worst case practice' is around and will be around for some time to come is a result of the different focus of involved stakeholder and. This results in a lack of mutual understanding and decisions which hard to understand.
As pressure to deliver increases at all levels, this behavior is experienced even more today.
This can only be addressed when there is a willingness to understand and connect the whole picture, involving the ops, management and governance layer. Lacking alignment between these levels will result in this card being number 1 for years to come.
Number 2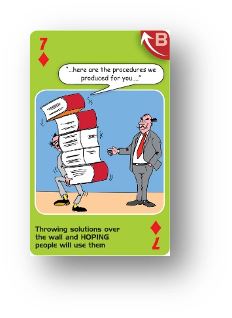 This card has the same underlying worst case behavior as our 'number 1'. The 'non-collaborative' mindset results in creating resources in isolation. As there was no involvement of other stakeholders, they will not understand the potential value, because there is no time to assimilate or worse, the information provided is only theoretical, not reflecting the reality of the stakeholder.
This can only be addressed if creating process documention is part of a collaborative exercise, based on an agreed working practice, not an imposed 'ideal'
Number 3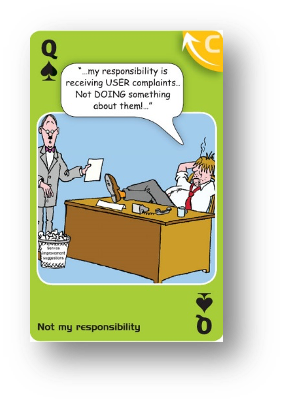 A silo driven organization, the lack of clear roles and responsibilities beyond that virtual castle not only from the workforce, but also from management, induces this culture of belly gazing.
This can be addressed by re-organizing into cross service teams with a common purpose. And if that is not feasible, introduce roles and responsibilities, which drive collaboration and genuine care for the bottom-line, a happy customer.
Obviously there were more lessons learned, but these are the prerogative of the attending workshop members.
https://www.itsmf.be/wp-content/uploads/2020/08/number1-1.png
252
162
luc schmitz
https://www.itsmf.be/wp-content/uploads/2020/06/logoitsmf-01-300x138.png
luc schmitz
2020-08-18 17:25:09
2022-12-09 00:08:14
08.2020 – ABC Cards – blog