S&T Happens: Surviving and Thriving in a VUCA World. (Tuesday 23th November 2021 @noon)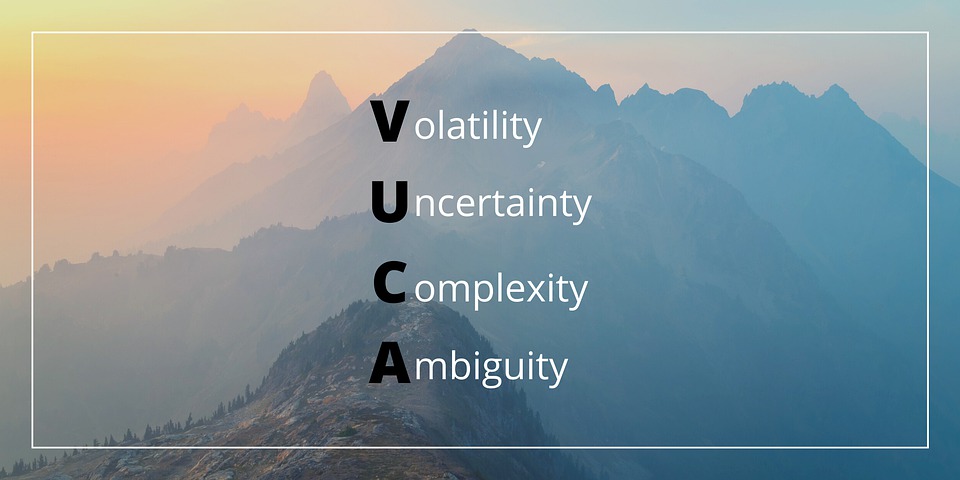 The better ways of working that are growing so quickly challenge much that we believe. They overturn many principles we built a career on. E.g.: IT servers are cattle not pets. Breed and slaughter them. If it hurts, do it more. Don't go
The better ways of working that are growing so quickly challenge much that we believe. They overturn many principles we built a career on. E.g.:
IT servers are cattle not pets. Breed and slaughter them.
If it hurts, do it more.
Don't go faster, do less.
Do nothing until the last responsible moment.
Break things to make them stronger.
Managers don't know the answers.
All work is experiment.
Failure is the path to success. It is a normal part of everyday work.
Maximise the work not done.
You can't measure a knowledge worker.
Management are the servants of the work.
A bad system beats good people every time.
Perhaps one of the hardest to get our heads around is that we don't know until we do something. We never know what is going to happen until we do the experiment. We can make a pun on "do" and say "You don't know until you do".
Because the world is VUCA.
Most of all, we don't know the future (unless we're psychic).
And yet we have all these rituals that imply we do know what will happen.and that it will work:
Business case.
Project plan.
Total cost of ownership
Training programme.
Business plan.
Reorg.
Business process reengineering.
SLAs.
Target operating model.
Annual budget.
Production change request rollback plan.
What if we admit we don't know the future? How do we Survive and Thrive in a VUCA world? How do we plan?
I've been exploring the answers. I will talk about how S&T Happens.
BIO :
Rob England is an independent IT management consultant, trainer, and commentator based in Wellington, New Zealand. Rob is an internationally-recognised thought leader in DevOps and IT Service Management (ITSM) and a published author of seven books and many articles. He is best known for his now-retired controversial blog and alter-ego, the IT Skeptic. He speaks regularly at international conferences.

Rob is a lead author of the VeriSM framework, and an acknowledged contributor to The DevOps Handbook, and to ITIL 2011 (Service Strategy book) and ITIL 4 (High Velocity IT book). Rob was awarded the inaugural New Zealand IT Service Management Champion award for 2010 by itSMFnz, and made a Life Member in 2017. Rob is one of New Zealand's first Certified IT Professionals (CITP), a global accreditation.

He provides local consulting and training to a number of business and government clients in Wellington, on IT strategy, governance, transformation (especially DevOps), and Service Management (ITSM) topics. He specialises in helping change IT ways of working and managing.

https://www.linkedin.com/in/robenglandattwohills/
https://www.itsmf.be/wp-content/uploads/2021/09/vuca-5406169_960_720.jpg
480
960
Arnaud Delcroix
https://www.itsmf.be/wp-content/uploads/2020/06/logoitsmf-01-300x138.png
Arnaud Delcroix
2021-09-14 08:30:42
2022-12-09 00:06:58
S&T Happens: Surviving and Thriving in a VUCA World. (Tuesday 23th November 2021 @noon)